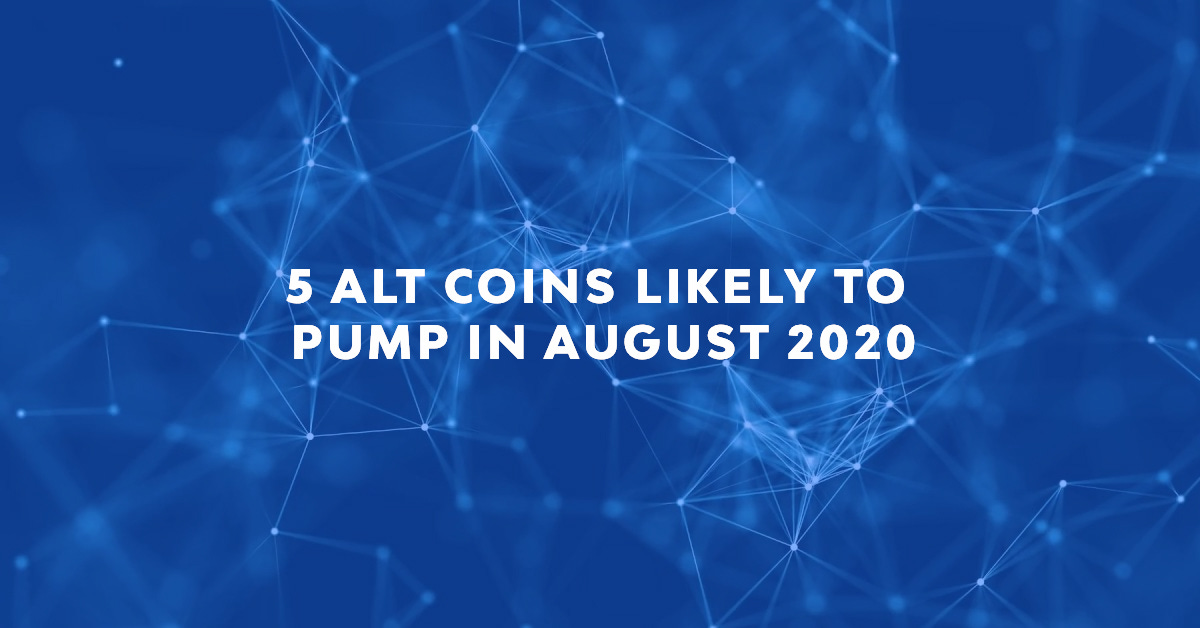 To Coinvision members,
The alt coin market is the gift that keeps on giving and last month was just another great example of an alt season. The top performers from our previous article were Ankr Network and Ocean Protocol, both reaching a staggering 300% profit from our call.
Yesterday is history and although tomorrow is a mystery, today we will analyse our top picks for August. So let's go.
Constellation ($DAG)
Constellation shined bright in 2019 and has amassed a huge network of influencers and followers ready to promote their upcoming tech releases. It's one of the few projects that didn't have a huge bull run and TA is showing very good signs for the upcoming weeks.
Description: Constellation allows developers to implement security and auditability for complex datasets without changing existing IT infrastructure. It's secure, cost-effective, scalable, and easy to integrate.

Market Cap: $21,792,359
Current Price: 0.00000146 BTC
Bounce ($BOT)
Bounce Finance is just some days old, but everyone is talking about it already. It works like a truly decentralised protocol for token sales and auctions. New projects can raise capital directly from Bounce in an environment that works like Uniswap meets Kickstarter. At the time of writing, $BOT is in the micro cap category.
Description: Bounce enables projects and individuals to swap tokens for ETH. After the pool creator creates a pool, people can join and use ETH to purchase tokens, effectively working as a Kickstarter for token sales and auctions.
Market cap: under $1M
Current price: $482
Geeq ($GEEQ)
Geeq was probably the most successful token sale in July, reaching highs of 2000% from the private-round. But even after this rally, there's still a lot of room to grow as $GEEQ still has a $6M market cap. Meanwhile it is fast becoming the most talked about defi project.
Description: Geeq has developed a proprietary protocol called Proof of Honesty that provides the security necessary for large scale, decentralized commerce.
Market cap: $6,121,837
Current price: $3.91
Tael ($WABI)
With 65,000 active users, Tael has become one of the most adopted blockchain projects. It's a real business, with real usage and it's surprising that it is yet to rally during this alt season. Our pick is therefore based on TA and on the significantly overdue pump that this project justifies.
Description: With Tael consumers scan NFC labels to verify product authenticity. Every product in the Tael marketplace is protected with an NFC label and consumers securely verify product authenticity with their mobile phone. Consumers receive Taels for purchasing, scanning labels, and more.
Market cap: $12,920,472
Current price: 0.00001261 BTC
Aergo ($AERGO)
Aergo is another beast that is just now waking up. TA shows high potential and several influencers and trading groups are already calling it. Invested by FBG Capital and Sequoia Capital China, this is a project with the means to skyrocket this month.
Description: AERGO provides a platform for businesses and developers to build decentralized applications and enterprise-IT solutions.
Market cap: $14,754,906
Current price: 0.00000476 BTC
As usual, a reminder must come at the close of this article. Always prepare for big Bitcoin swings. The king of cryptocurrencies is trying to break $12,000 so volatile price swings are expected, which could abruptly crash the alt coin party. Don't forget stop losses.
Happy Alt Season!