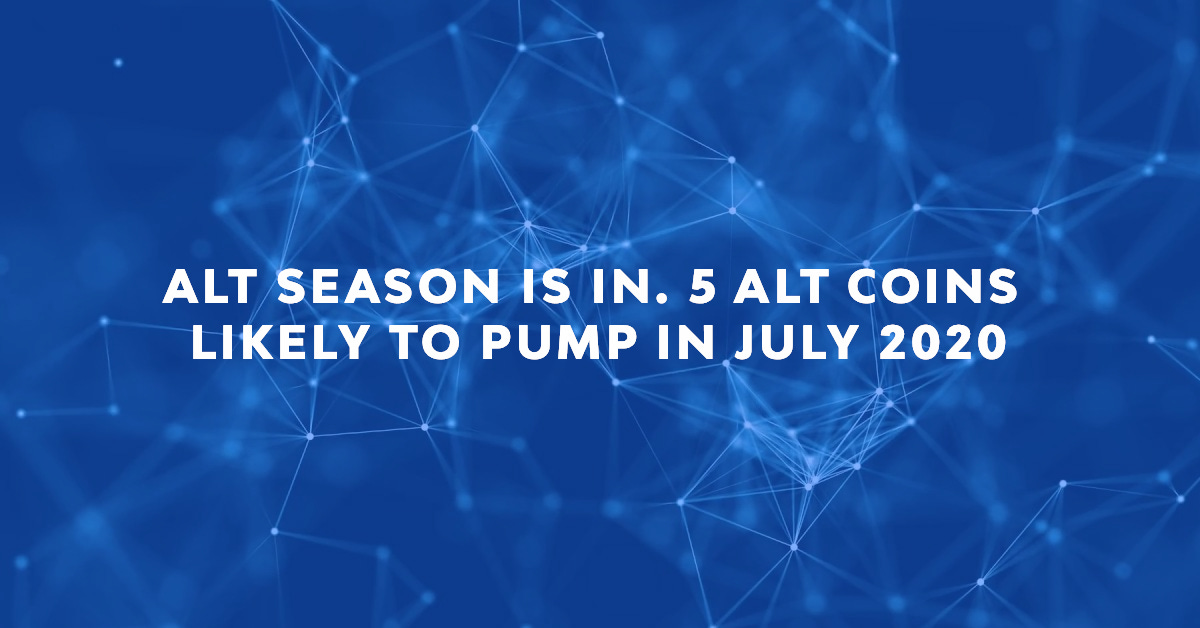 To Coinvision members,

Our last alt coin report is history with grand results. Projects like Elrond ($ERD) pumped 400% and BetProtocol 100%. June was the best month of 2020 for alt coins, but it's now over and we have a new story to tell.
July brings a period of bigger uncertainty on the Bitcoin side with the mother of all crypto dumps usually falling between July and August resulting in draw-down as far as 40%. History tends to repeat itself, but while Bitcoin is ranging sideways, there's plenty of opportunities out there.
Binance Coin ($BNB)
Binance is undoubtedly the best exchange in the cryptocurrency market. With features that include spot trading, futures trading, decentralised trading and now even Binance Chain, the start of a possible Ethereum competitor, made by CZ's team. Binance team recently hinted a big announcement for July 14th and there are rumours about a possible Binance Token ($BNB) staking announcement.
Description: BNB is a cryptocurrency that was created by Binance back in 2017. It was first issued and launched during an Initial Coin Offering (ICO) crowdfunding event, which took place between the 26th of June to the 3rd of July. Originally used only for discounted gas fees, BNB is now a utility powerhouse and critical underlying asset for Binance Chain.
Market Cap: $2,673,048,801 USD
Current price: 0.00185287 BTC
Utrust ($UTRUST)
Utrust is one of the most respected projects in the crypto market. They survived the bear cycle and continued working on delivering great tech and closing big clients. Partnered with Benfica, one of the biggest football clubs in the world, and with dozens of merchants, this is a projects with big upside potential. Risky trade here, as price pumped heavily in June, but still has some room to grow in July, especially with the prominent crypto influencers backing it.
Description: The Utrust platform allows merchants to accept digital currencies as a means of payment. It aims to bring digital currencies to mainstream consumers while providing the buyer protection and credibility of traditional payment platforms.
Market Cap: $19,237,566 USD
Current price: 0.00000461 BTC
Ankr Network ($ANKR)
Ankr Network was one of the most hyped projects during the ICO era. Everyone wanted a piece of the cake and private-sale investors ended up making +500% profits. But this was just the bright side of the story and soon the dark side of the cryptocurrency market started haunting the project, which resulted in $ANKR falling month after month. It looks like Ankr finally found a bottom and the team has been releasing many tech updates, partnerships and have also been riding the DeFi hype. Good long-term bet.

Description: Ankr is building an infrastructure platform and marketplace for Web3-stack deployment. The blockchain infrastructure aims to enable resource providers and end-users to easily connect to blockchain technologies and DeFi applications. The Ankr proprietary cloud infrastructure operates independently from public cloud providers and is powered by geographically distributed enterprise-grade datacenters to increase resilience and stability.
Market Cap: $17,461,193 USD
Current price: 0.00000036 BTC
Fantom ($FTM)
Last but not least, a high-risk high-reward play. Fantom has been riding the DeFi hype in style with 100% movements in a week, but somehow it feels that it has even more to give with a full DeFi platform coming soon called Fantom Finance, that will include decentralised trading, lending and borrowing.
Description: The Fantom Foundation is building technology that is open-source, decentralized DAG-based distributed ledgers with aBFT consensus. This project aims to create fast, secure, and scalable technologies across a wide range of industries, allowing organizations, businesses, and individuals to develop decentralized and secure applications, solving real-world problems.
Market Cap: $21,677,260 USD
Current price: 0.00000129 BTC
Ocean Protocol ($OCEAN)
Ocean is probably one of the most impressive alt coins in terms of secondary market performance. Price has been continuously rising and forming a great looking chart printing constant new all time highs. Recently Ocean completed a proof-of-concept (PoC) with Daimler, that details how the Mercedes-Benz maker can begin monetizing data streams within the company and across its supply chains. There's also a high chance of a new listing on top tier exchanges, including Binance.
Description: Ocean enables companies to launch data marketplaces, using Ocean software components, connected to the decentralized Ocean data sharing network. Data providers can monetize data while preserving privacy and control; data consumers can access data that they couldn't get before: private data.
Market Cap: $31,197,593 USD
Current price: 0.00000977 BTC

To close out, remember that July is usually a month with huge market swings, so it's important to be careful when taking positions in alt coins. Always consider what Bitcoin might do, don't be afraid to take profits, and if there is volatility, hopefully it provides you with some discounted alt coin entries. Happy Alt Season!