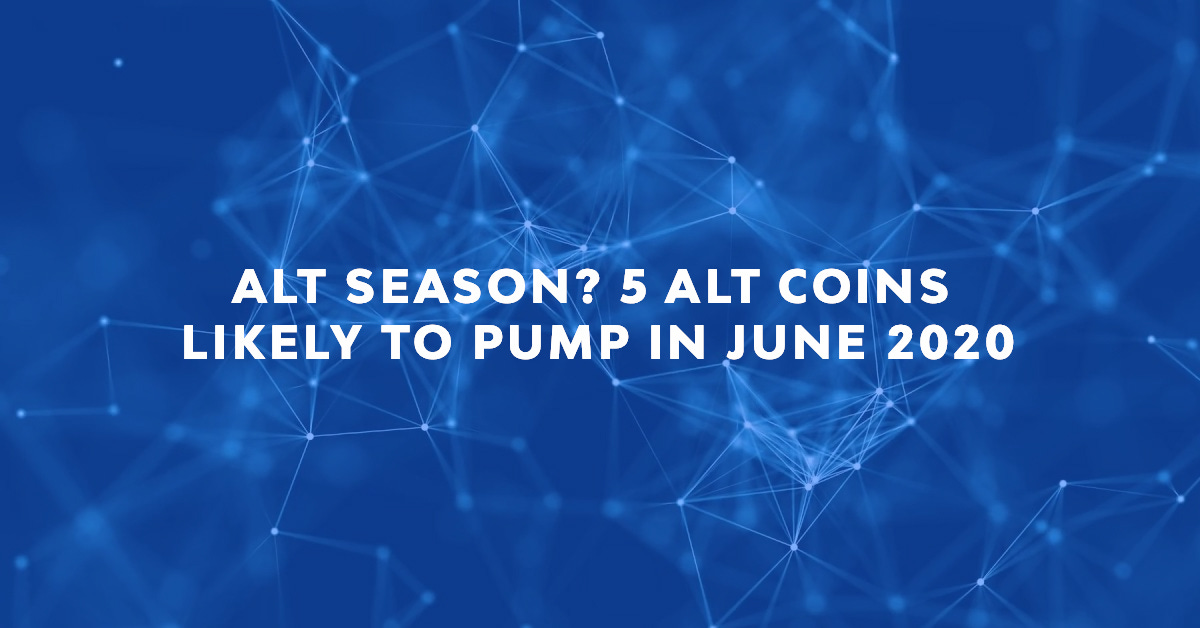 To Coinvision Community Members,
It's spring and Bitcoin is freshly out of its bull run due to halving expectations. Now that investors already "sold the news", Bitcoin is going sideways and the Bitcoin Dominance chart is showing very encouraging signs.
In other words, it's time to say "Welcome to Alt Season!" and because of that we have prepared a list of 5 amazing projects that have enormous upside potential during the month of June.
Matic Network ($MATIC)
With one of the best teams in the crypto space, Matic Network is clearly one of the contenders for a bull run in June. Mainnet and staking are going live, there's a big trading competition running on Binance and the possibility of a listing on Coinbase is at the forefront of people's minds.
Description: Matic network is a Plasma Implementation to provide side chain scalability solutions for public blockchains. Matic Network strives to solve the scalability and usability issues while not compromising on decentralization, and leveraging an existing developer community and ecosystem.
Market Cap: $74,098,167 USD
Current price: 0.00000227 BTC BTC
Band Protocol ($BAND)
Band Protocol's public Wenchang Mainnet launch is going live on June 10, 2020. This Genesis Ceremony will enable token transactions and staking, a huge milestone for Band.
Description: Band Protocol is a cross-chain data oracle platform that aggregates and connects real-world data/APIs to smart contracts in real-time.
Market Cap: $31,113,270 USD
Current price: 0.00015977 BTC
BetProtocol ($BEPRO)
The small cap of the group is BetProtocol, one of the few projects in the space that is revenue-first and is already monetising their product. The team has just announced that June is going to be a month full of events for $BEPRO, that will likely include new partnerships, the launch of new live platforms and a possible new exchange listing.
Description: BetProtocol enables anyone in the world to create gaming platforms with no coding required, including casino, slots, Esports and Sports booking.
Market Cap: $1,641,660 USD
Current price: 0.00000009 BTC
Elrond ($ERD)
Elrond has been making a fantastic recovery from their bottom and now the time has come for mainnet launch. The team is also preparing a week full of announcements and have mentioned that the launch is likely to happen in early June.
Description: Elrond is a high-throughput public blockchain focused on providing security, efficiency, scalability, and interoperability by employing two key elements: Adaptive State Sharding and a new Secure Proof of Stake ("SPoS") consensus mechanism.
Market Cap: $21,638,655 USD
Current price: 0.00000024 BTC

LTO Network ($LTO)
LTO Network has one of the most exciting communities in the crypto space. Price action was very bearish after their Binance listing, but now $LTO has found a bottom as it's recovering steadily. Promised by the LTO team is a new partnership and mainnet upgrade.
Description: LTO Network can be used by any company with a need for a production-ready blockchain that allows for digital verification of digital assets and enabling collaboration through the use of decentralized workflows.
Market Cap: $8,978,339 USD
Current price: 0.00000446 BTC
So yes, it's time to get excited for alts and add some to your watchlist! And by the way, what's in your portfolio? Please let us know on the comment session!