6 Reasons Why We're Bullish On Polkastarter
Polkadot-based project that is building a DEX for cross-chain token pools and auctions.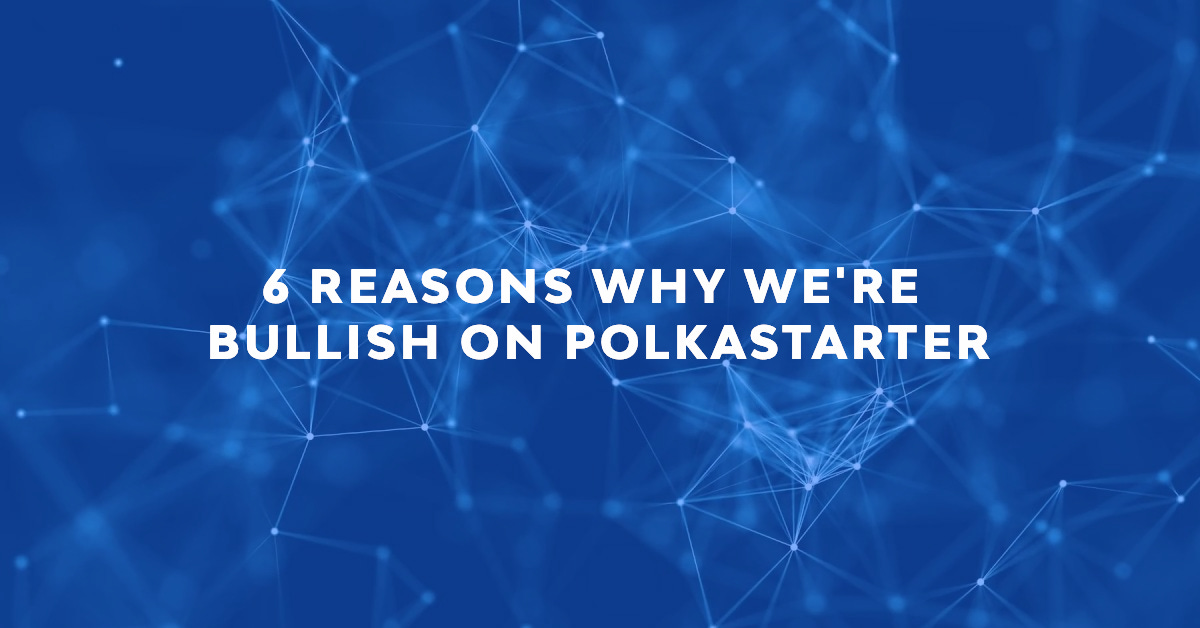 Dear investors,
September was a very intense month for crypto. Bitcoin price was highly volatile and that ended up affecting the whole altcoin market, especially the recent hyped DeFi projects. Now that the market is finally stabilizing, a new window of opportunity is opening for up and coming gems.
Today we're going to talk about Polkastarter, a Polkadot-based project that is building a DEX for cross-chain token pools and auctions, enabling projects to raise capital on a decentralized, permissionless, and interoperable environment. And this is why we're bullish.
1. It's Polkadot and DeFi
Polkadot and DeFi are two of the strongest narratives in the current iteration of the cryptocurrency market, with retail investors flocking to get a piece of hot upcoming projects. Polkastarter quickly justified the hype, becoming one of the most anticipated recent token sales and ending up listing at +30x the private-sale price. Thanks to this Polkadot / DeFi narrative it eventually reached number #4 on Uniswap volume ranking and #1 on Coingecko top searches.
Polkarstarter is first going to deploy a minimum viable product on Ethereum and later launch of the working product on the Polkadot environment, enabling Polkadot projects to raise funds in DOT or any other Polkadot-based tokens that the project chooses to raise in. So the hype is going to continue through 2021.

2. Strong token utility
The Polkastarter token is going to be used for staking, governance, and liquidity mining. Holders will be able to stake to get access to closed token pools, to get a share of the project's revenue, and to be able to participate in the governance mechanisms. 
$POLS staking gets particularly interesting when it comes to getting a piece of Polkastarter earnings and the way it works is pretty straight forward. Token pools on Polkastarter will incur a fixed fee, paid by the pool creator. If a pool creator receives, let's say 1000 ETH worth of a token, and the fee is fixed at 1%, 10 ETH will be deducted from his purchase and added to the staking reward pool.
Staking rewards will also be distributed in 24-hour cycles. If a user holds 2% of the total staked POLS during that 24-hour cycle, that user will get the equivalent of 2% of all the staking rewards for that same period. If during that period Polkastarter generated 10,000 ETH, that user will get 200 ETH.
3. Liquidity Mining
To incentivize network effects, Polkastarter is distributing a fixed amount of tokens daily.
With this liquidity mining program, liquidity providers can claim rewards in POLS for contributing to the platform volume.
Everyday X tokens will be distributed for all liquidity providers on a pro-rata basis. If there is a 1000 ETH swap volume for 24 hours, a user that contributed with 100 ETH in volume will receive 10% of the total daily liquidity rewards.
Liquidity providers can claim their reward after 24 hours and will have 7 days to claim their reward tokens on the Polkastarter dashboard. Unclaimed tokens will be sent back to the rewards pool for later distribution.
4. DEX volume is in an exponential growth phase
The monthly volumes for decentralized trading platforms registered an 1100% growth in comparison to 2019. Aggregate trading volume on decentralized exchanges reached $23.5 billion in September, up from $11.6 billion in August as the intense enthusiasm for decentralized finance (DeFi) applications continued to spread.
Another amazing statistic is that, for the first time, Uniswap's monthly trade volume exceeded that of crypto exchange Coinbase. During September, Uniswap saw approximately $15.4 billion in volume, while Coinbase reported $13.6 billion in monthly trade volume. 
5. The product solves the biggest problem for Uniswap-based token listings
Uniswap is one of the most amazing innovations that the cryptocurrency market ever saw. It provides a decentralized, permissionless, secure, and liquid platform for cryptocurrency trading based on Ethereum. But while it works really well for established cryptocurrencies, it lacks features for newly created projects.
When a freshly minted token is listed on Uniswap, bots automatically fetch it making it virtually impossible to buy hyped projects at their listing price. Polkastarter technology solves this by providing fixed token pools, pretty much working as a decentralized Coinlist.
6. The team
One of the biggest criticisms that Polkastarter has been facing is the fact it got so big in terms of awareness and hype without actually launching any product first. While this is perfectly normal in an innovation environment, especially in the startup world, crypto retail investors tend to be a little more anxious about technology, as there are many scams listing on Uniswap on a daily basis. This is where the experience of the team members comes in.

Firstly Daniel Stockhaus, the CEO. He is a serial tech entrepreneur that scaled several companies to over 1M users and $20M turnover. His last venture was acquired by a big e-commerce company, which shows he can take a project from a blank sheet to a multi-million dollar business. 
Secondly, Tiago Martins, the CTO. Tiago has been developing tech products for more than 10 years and his biggest success was founding a coding education company called Codeplace, a project that eventually scaled to +100,000 students and was eventually acquired by a competitor. 
The founders' team is also in good company with two respected advisors. John Patrick Mullin, from MantraDAO, and Matt Dibb from Astronaut Capital.

Conclusion
As per the roadmap, Polkastarter is going to deliver its MVP in Q4 2020 and Polkadot migration will happen in early 2021. Exciting times are coming even with the ups and downs from the un-vesting of the private sale token purchases, which will be fully distributed over the next three months.
But the polka-hype is real and it's not going to end anytime soon, making Polkastarter a strong contender to become one of the top projects of 2020 and beyond.